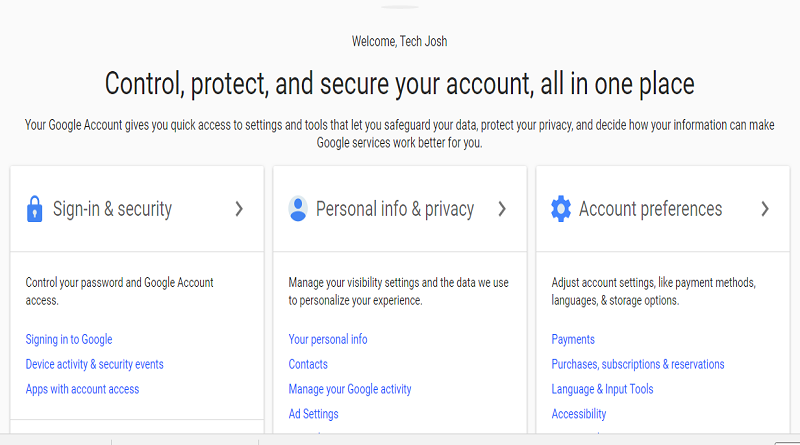 Due to increasing technology day by day, some companies are changing their technology and feature every day, Gmail has also been changing its features and interfaces constantly due to this technology competition. Recently, Gmail has also made significant changes to its privacy and security options. These changes have been made with User Secure Purpose. The users of this page can secure their Gmail account password. We will only know how to secure a password through this blog. Here we are going to tell you Six Simple Steps, which help you to easily your secure Gmail password. Let know how to secure Gmail password.
Steps for Secure Gmail Password
Step 1: Go to your Gmail account. Click on your profile photo on the left here.
Step 2: Here you will see My Account page, click it.
Step 3: You'll see several options on the My Account page. In this case, you'll see a Sign-in & Security option, click it.
Step 4: Scroll through the login and security page and you'll see the "Sign-in and password" column. Here you can get information about passwords, 2-step verification, application passwords, and PIN information for your Google Account. You can also change these passwords by clicking these options. To change your password, click the Password option.
Step 5: Before changing your password, Gmail will ask you to enter an existing password. You can enter your password here.
Step 6: You will then need to enter your new password. Additionally, you must re-enter the new password. After you enter your password, click the Change Password button.
Also Read:
Know the 3 Things Related to the Smartphone Cover | Precautions
HP Launches Four Ink Tank Printers, Price, Features, Competitor
How to Aadhar Update Online from Home | Aadhar Card Online Updates
Honor Play 7 Smartphone with Selfie 24-MP Camera, Specifications